Pool Evaporation: Is This Why My Pool Level Is Dropping?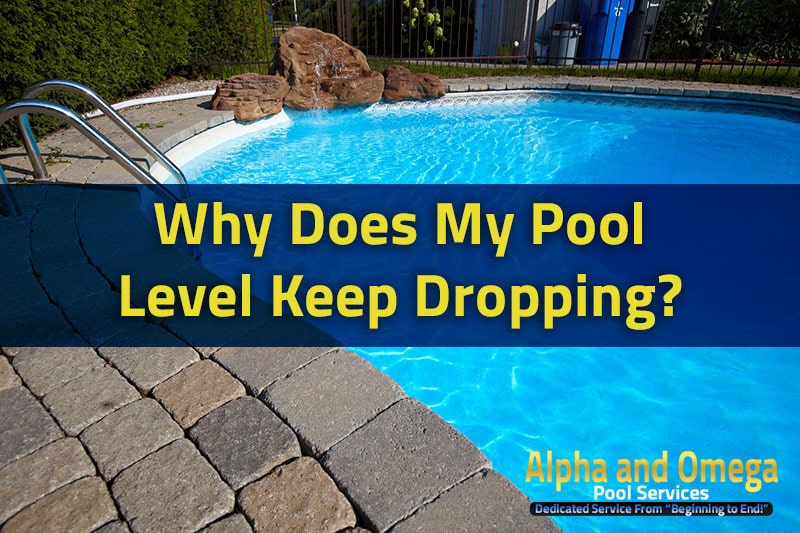 The end of the year is almost here. Most homeowners across Nevada are having backyard barbecues, parties, and fun under the sun with the help of their swimming pools. With the pool comes the labor; come on parents, you know what we're talking about: pool maintenance tasks such as the skimming, and the chemicals, and that time you walk outside and notice that your pool level is low for absolutely no reason.
Download our free Homeowner's Guide today to get started with your pool maintenance.
Why Is My Pool Level Dropping?
A few weeks ago, you re-filled your swimming pool, and about 4 inches of water suddenly disappeared. There are many reasons why this could be happening, and we put together a list to help you get to the root of the problem.
Lack of Humidity
Now that summer is coming to an end, the humidity in the air will slow down, which means water is more likely to evaporate. When there is a high amount of humidity, there is a less chance of water levels decreasing. Here in Las Vegas, we're no stranger to low humidity levels, so your pool level may be dropping from pool water evaporation.
Natural Outdoor Elements
Where is your pool located in your backyard? If it is in an area where the sun shines down every day, you will notice more evaporation as time passes.
You might live in a neighborhood that experiences heavy winds. On the bright side, swimming pools near trees, fences, or structures are protected from natural elements that cause evaporation.
Leakage
When you spend most your time enjoying a burger by the pool or jumping in on a hot day, you may not notice when your pool level subtly drops. However, if you notice that 2 inches of your water rapidly disappear each week, it might be due to a leak.
Most homeowners don't know that sealants and other parts in a swimming pool go through normal wear and tear. Now is the time to call a swimming pool specialist to check for or repair leaks.
Related: Keeping Your Investment in Good Condition With Pool Maintenance
Splash-out
When you have fun in a pool, it means deep diving, horseplay, wading, floating on water toys, and pool fights. Did you know water disappears from these fun activities? There's likely nothing wrong if everyone is simply playing hard in the pool, but if you're refilling frequently, you may consider setting some rules with your children to avoid games that incur huge water losses in the pool.
Other Factors for Swimming Pool Water Loss
You could also have a crack or a tear in the liner of the swimming pool, an issue that is typically caused by rocks or tree branches that leave holes in vinyl. As a result, the water pushes through the holes out of the pool.
Is your safety cover the culprit? If your cover has holes or is damaged, it may also cause the water level to drop.
Pool Water Evaporation Bucket Test
If you want to rule out water evaporation vs an actual pool leak, we have an awesome test for you to try. Here's how to find out:
Fill a 5-gallon bucket with water up to 2/3 and place it on the first step of your pool to about 5 inches deep.

Mark the water level inside the bucket with a piece of paper and on the outside of the bucket where the water level sits.

If you have a commercial pool, the autofill valve should be turned off.

Re-visit your swimming pool in 24 hours to see if the water level is lower in the pool. If so, this means there is a leak in the pool.
If it rains overnight, it is best to re-do the water test.
Read More: How Can I Tell If My Pool Is Leaking? The Bucket Test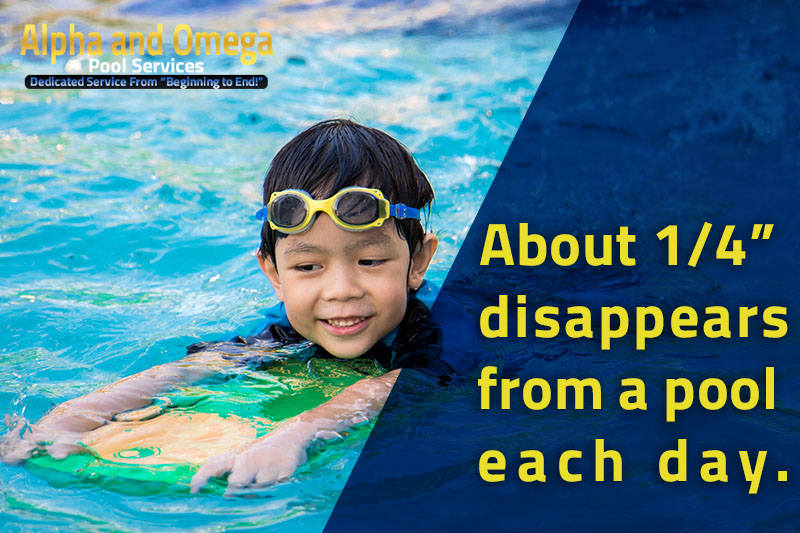 How Much Water Loss in a Pool Is Normal Per Day?
If you're still on the fence about whether your pool water is evaporating too quickly or whether you have a leak, gauge yourself against the average water loss in a pool. About a quarter of an inch of water disappears from a swimming pool every day.
What Does It Mean If Pool Water Evaporates at Night?
When the weather sees a difference of 25 degrees Fahrenheit from hot to cool temperatures at night, the water in a swimming pool will decrease. Test it out by turning on a pool light. If you see mist coming from the pool, there is a high chance that pool water is evaporating at night due to the difference in temperature.
Will Pool Water Evaporate in Cold Weather?
If the temperature of the water is high, the vapor pressure will be as well. When hot water turns into cold water, the vapor pressure will increase the rate of evaporation. Once the water becomes cool, the vapor pressure decreases.
Related: Do I Need Winter Pool Maintenance?
How to Minimize Pool Water Evaporation
Any of these tips can help you mitigate the effects of pool evaporation:
Using a Solar Cover
We highly recommend that you put a solar cover over your pool when it is not in use because it can slow down evaporation by 95 percent.
Getting a Liquid Solar Blanket
You can get a liquid formula to pour into the pool, creating a microscopic film on the pool's surface that acts as a protective barrier to stop heat from evaporating the water.
Turn Water Features Off When Not in Use
If your swimming pool includes a waterfall, fountain, slides, or a laminar sprayer, air and sunlight is more likely to dry the water. The way it works is heat trapped in water pellets from any of these water features can cause the problem.
Install Windbreaks
A windbreak goes around the pool and stops high speeds of wind to lower water levels. When it gets a bit too windy, it blocks the wind from carrying water out of the pool.
Lower Water Temperatures
You don't have to swim in a freezing pool, but it will help if you lower the pool thermostat because it is less likely to disperse into the air.
There's No Reason to Be Concerned About Pool Evaporation
We hope that this blog helps you to find out if the weather or a leak is causing your water levels to decrease. It can simply be the kids splashing a bit too much. You can rest assured that once the cause is determined, you and your family can enjoy the swimming pool with your mind at ease.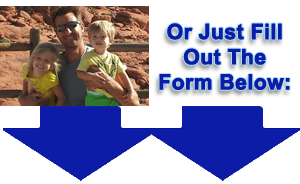 To request service or receive a free estimate, please fill out the form below and we will get in touch with you shortly.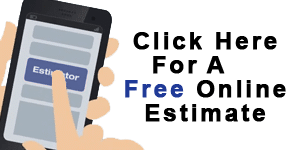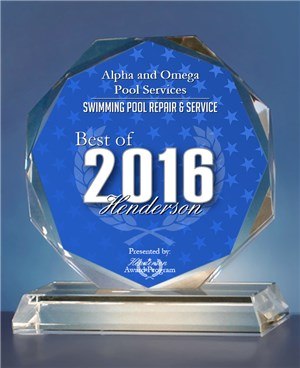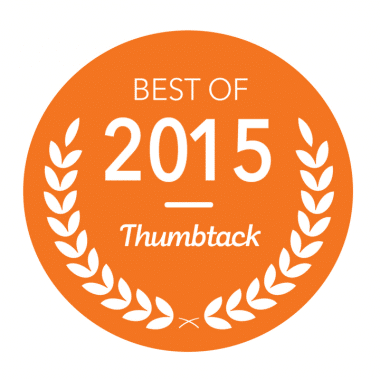 We Are Licensed and Insured!
Nevada State Business License: NV20091621874
Insurance License: #0510559