Homeowner Pool Training in Henderson
Schedule a Homeowner Pool Maintenance Training with an Expert
*Training is only available to homeowners located in Henderson, Nevada and surrounding areas including
Green Valley, Anthem, Silverado Ranch, and Seven Hills.
If you're a DIY type of person who loves to do things around the house yourself (and have the time), our pool maintenance training for Henderson homeowners is just for you. The cost of this in-depth training is only $125. Plus, you get a homeowner's guide for reference after the training.
Schedule a time for your training today.
Schedule Your Training with Us Today
The secret to a sparkling pool all season long is regular, routine maintenance, proper chemicals, and cleaning equipment. Our goal at Alpha and Omega Pools is to be there for you if you need us or show you the proper way to keep your pool clean on your own.
Our "Do It Yourself Homeowner Pool Maintenance Training" is a one-on-one training done at your home with one of our pool cleaning experts.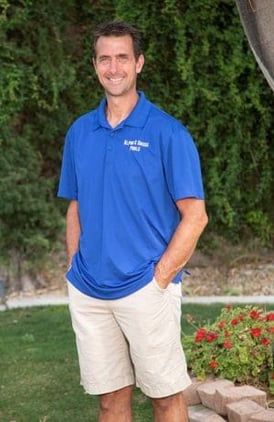 During the training, you will learn the following:
The proper levels of chlorine, pH, alkalinity, and cyanuric acid for your pool
The relationship between chlorine and pH, as well as between chlorine and cyanuric acid and pH and alkalinity, and the effect on the quality of water
How to raise or lower those levels
Recommendations for weekly tasks to ensure proper pool maintenance
How to look for leaks in the pool equipment and the impact they have
How often and when to clean/replace your filters
Recommended equipment to buy How to vacuum and brush properly and effectively
How to verify that the pump is operating properly, and what to do if it's not
Causes for pump not running correctly
How to handle algae problems quickly and effectively as well as what the different types of algae are and the best way to prevent them from happening
I will also leave you a summary of what's been discussed for your reference.
*Training is only available to residents of Henderson, Nevada and surrounding areas.